Birthday anniversary celebration ★ 2 hour drink all-you-can-eat! Birthday · anniversary course 3000 yen
Course details
Birthday anniversary celebration ★ 2 hour drink all-you-can-eat! Birthday · anniversary course 3000 yen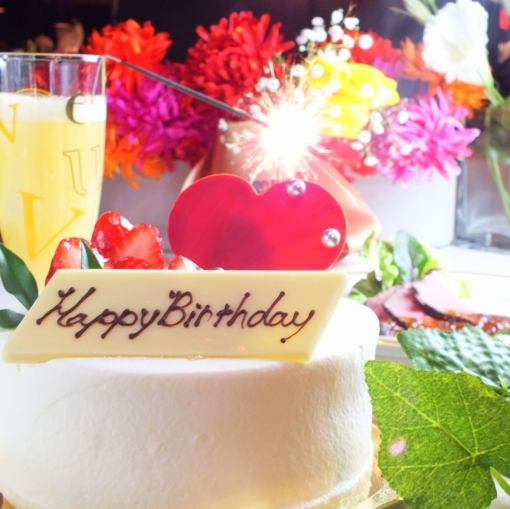 All-you-can-drink available

All-you-can-drink all-over drinks all-you-can-eat! (30 minutes before LO)
Reservation deadline

Until 17 o'clock the day before the desired store visit
Available days for reservation

Monday - Sunday - Public holidays - Holidays
Prepare course for birthday from flat five!
Course menu
【Contents of dish】
● Duck and cream cheese sandwich
● Caesar salad
● salmon carpaccio
● 2 kinds of fried food
Deep-fried young chicken
· Fries of potatoes
● Dim Sum 2 types
· Small Long Package
· Shrimp Shumai
● Roast Beef
● Tomato sauce pasta
● Chocolate fondue
※ Hall cake with over 8 people!
Fireworks, crackers, birthday songs and so on Surprise production directed!
In-store decoration OK ☆ ★
Please feel free to tell us ♪
All-you-can-drink menu
· ■ Beer ■
· Beer of glass beer · Shandigafu · Red eye · Biacoke
· ■ Spirits ■
· GIN · VODKA · TEQUILA · RUM · WHISKEY etc ... 28 species
· ■ Cocktail ■
· Cassis · Peach · Apple · Malibu · Apricot · Green tea · Banana · Campari · Kalua · Fruits including all 39 kinds!
· ■ Wine ■
· All 11 kinds including wine cocktail on glass wine (red · white)!
· ■ ■ soft drinks ■
· All 12 species including oolong tea, orange juice, gingeraele, grapefruit juice, cola, tonic water, pine juice, Calpis water, non alcohol drinking cocktail
· Shochu ■
· Wheat · potato · shiso (rock · water split · oolong tea divided · soda)
· Japanese sake ■
· Cold · 燗
2018/11/20 update